Our Campus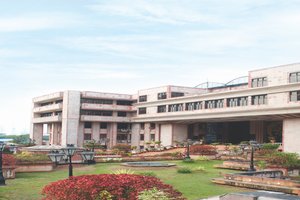 The University has two campuses one at Yaari Road and another close by at Seven Bungalows, in Mumbai. The new Yari road campus (three floors and basement) houses scientific divisions, chambers of the Director and Joint Director, Academic and Accounts sections, Conference hall, Community hall, Aquarium, Examination and Academic cells, Library building, Staff quarters and Ladies hostel etc. Wet labs, ponds and hatcheries are also developed in Yari road campus. The old campus at Seven Bungalows houses three divisions, laboratories, classrooms, computer cell, committee room, auditorium, workshop and museum. These two campuses are a kilometer apart from each other at Versova. The University with its headquarters at Mumbai has four centres at Kolkata (West Bengal), Kakinada (Andhra Pradesh), Powerkheda (Madhya Pradesh) and Rohtak (Haryana) near Delhi. The Institute's field facilities include 20 ha Freshwater Fish Farm at Powerkheda (Madhya Pradesh); 9.0 ha Freshwater Fish Farm at Balabhadrapuram (Andhra Pradesh); 7.5 ha Brackishwater Fish Farm at Kakinada (Andhra Pradesh), 4 ha Freshwater Fish Farm and 10 ha Ground Saline Water Farm at Rohtak for training and research in aquaculture. The Institute has two training-cum-research vessels viz.: M.F.V. Saraswati (36 m OAL) and M.F.V. Narmada (11 m OAL) for training and research in marine fisheries.
Infrastructure
Laboratories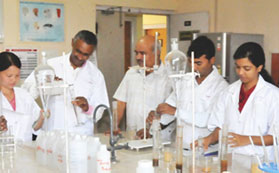 Hatchery/ Nursery for Ornamental Fish and Giant Freshwater Prawn
Fish / Molluscan Biology and Taxonomy Lab
Biotechnology and Molecular Genetics Lab
Biochemistry, Nutrition and Feed Formulation Lab
Disease Diagnostics and Cell Culture Lab
Fish Processing and Quality Control Lab
Bioinformatics Lab
Algal Taxonomy and Culture Lab
Electron Microscopy Facility
Library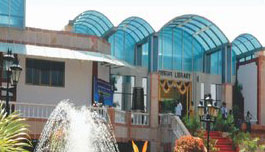 The "National Library for Fisheries and Allied Sciences" at CIFE is housed in an expansive area and provides a serene setting for literature search and reading. It has a rich collection of books, journals and online databases. An Online Public Access Catalogue (OPAC) provides information about all the available publications. The library has a collection of about 35,000 books along with 135 e-books and subscribes about a hundred foreign and Indian journals. The digital section of the library is equipped with 28 computer terminals connected to LAN and internet. The ongoing NAIP project "e-GRANTH" aims to digitize the in-house publications and to connect different libraries of ICAR and State Agricultural Universities.
Learning Resources
Equipped with modern audio-visual aids and round the clock broadband connectivity, CIFE classrooms enable effective teaching. Moreover, sophisticated laboratories provide an effective learning environment. The Institute has a modern auditorium, community hall, conference hall and committee rooms for hosting seminars, conferences and cultural events. An attractive ornamental fish facility housing several varieties draws a large number of visitors particularly school and college students
On-Line Examination Facility
The institute has established the National On-line Examination Facility for conducting ARS/NET examinations.
Other Education Facilities
All class rooms are equipped with modern audio visual aids. The laboratories have advanced facilities for providing effective learning environment. A campus wide LAN facility provides round the clock internet service with high speed broadband connectivity. CIFE has a modern auditorium, conference hall, committee room equipped with the latest audio visual equipment for hosting seminars, conferences and cultural functions. Video conferencing facility connects CIFE and its centres with several academic institutions across India and the world making seamless real-time interaction possible.
Vessels
CIFE has two fishing vessels namely MFV Saraswati (OAL-36m) and MFV Narmada (OAL-11m) to support its on-board research and training programmes on fishing, navigation, oceanography and other such studies. The vessel Saraswati is equipped with Global Positioning System (GPS), Very High Frequency Radio (VHFR), Radiotelephone (RP), Echo sounder, Sonar and Trawl eye.
Museum
CIFE museum houses a fascinating collection of a large variety of finfish and shellfish and other aquatic animals, mostly collected during Institute's cruise programmes organised for students.
Accommodation
Modern facilities have recently been created at CIFE for accommodating staff and students. These include Boys Hostel, Girls Hostel, Residential Complexes for faculty members and a spacious and tastefully decorated International Guest House. The campus has round the clock internet service with broadband connection.
Sports And Recreational Facilities
CIFE has excellent facilities for sports and recreation like international standard modern badminton courts, gymnasium, tennis, volley ball & basketball courts and indoor games like table tennis, chess, carrom etc. Students and staff of CIFE enthusiastically participate in ICAR level sports meet and consistently win various medals and laurels.
Aquarium
CIFE maintains a fascinating collection of variety of finfish and shellfish and other aquatic animals in the newly constructed aquarium facility.
Guest House, Hostels & Residences
On-campus modern facilities for students and faculty in the form of 2 Boys Hostels, 1 Girls Hostel, Staff Residences and Guest House are available and provided with internet facility
Farms Facilities At Cife Centres
IFE has four strategically located centres at Kolkata (West Bengal), Kakinada (Andhra Pradesh), Powerkheda (Madhya Pradesh) and Rohtak (Haryana). The centres are well equipped to provide experiential entrepreneurship education and training in diversified areas of aquaculture. Further, most of the outreach programmes and related activities are executed through these field centres.
---