Facilities
Field Centres and Farm Facilities
CIFE has four strategically located centres at Kolkata (West Bengal), Kakinada (Andhra Pradesh), Powerkheda (Madhya Pradesh) and Rohtak (Haryana). The centres are well equipped to provide experiential entrepreneurship education and training in diversified areas of aquaculture. Further, most of the outreach programmes and related activities are executed through these field centres.
Other Education Facilities
All class rooms are equipped with modern audio visual aids. The laboratories have advanced facilities for providing effective learning environment. A campus wide LAN facility provides round the clock internet service with high speed broadband connectivity. CIFE has a modern auditorium, conference hall, committee room equipped with the latest audio visual equipment for hosting seminars, conferences and cultural functions. Video conferencing facility connects CIFE and its centres with several academic institutions across India and the world making seamless real-time interaction possible.
Vessels
CIFE has two fishing vessels namely MFV Saraswati (OAL-36m) and MFV Narmada (OAL-11m) to support its on-board research and training programmes on fishing, navigation, oceanography and other such studies. The vessel Saraswati is equipped with Global Positioning System (GPS), Very High Frequency Radio (VHFR), Radiotelephone (RP), Echo sounder, Sonar and Trawl eye.
Sports & Recreation
CIFE has excellent facilities for sports and recreation like international standard modern badminton courts, gymnasium, tennis, volley ball & basketball courts and indoor games like table tennis, chess, carrom etc. Students and staff of CIFE enthusiastically participate in ICAR level sports meet and consistently win various medals and laurels.
Aquarium
CIFE maintains a fascinating collection of variety of finfish and shellfish and other aquatic animals in the newly constructed aquarium facility.
Guest House, Hostels & Residences
On-campus modern facilities for students and faculty in the form of 2 Boys Hostels, 1 Girls Hostel, Staff Residences and Guest House are available and provided with internet facility.
Laboratory Facilities
Electronmicroscope Laboratory
Zebrafish Breeding Facility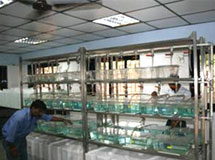 Aquatic Radiolecology Lab
---