Ready-to-eat fish meat fortified snack (Fish munch)
---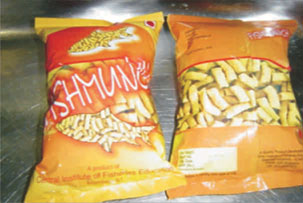 Extrusion technology is becoming very popular across the world to produce puffed and crispy snacks. Fish munch is one such product in the category of snack food which has been incorporated with fish meat.

Description of technology

Fish munch is an extruded fish product. Usually starch is used for extrusion because of their temperature tolerance and desirable behavior at high temperature. Addition of protein adversely affects the crunchiness of the product and usually not exceeded beyond 5%. CIFE, Mumbai has developed the unique technique of blending up to 25% fish protein (a level that is equal to the protein content in fish) in to extruded product. A temperature controlled twin screw extruder is used for unique blending of starch and protein from different sources. The extrusion parameters (feeding rate, moisture, barrel temperature, die diameter and screw speed) have been optimized using response surface technique to get desirable product expansion. Three-layered laminated pouch from aluminum and polyester were developed for nitrogen packing and storage. The product has a shelf life of over 4 months. The product showed excellent acceptance in sensory evaluation. Low cost fish has been utilized to make this product cheaper and for better use of the commercially unimportant fish.

Commercialization status

Technology has been transferred to Vijaya Infra Project (Pvt.) Ltd., Mumbai Commercialization status Technology has been transferred to Vijaya Infra Project (Pvt.) Ltd., Mumbai.
---