Fisheries Outreach Programs
Besides training programs of various types, CIFE conducts various Outreach Programs to popularize the research innovations and technologies. Such as various programs conducted during 2014-15.
Mera Gaon Mera Gaurav:
One of the flagship programs of Government of India. The "Mera Gaon Mera Gaurav" has been conceptualized in which scientists of ICAR and Agricultural Universities will identify villages in the vicinity of the Institutions for providing advisories and consultations to farmers for increasing farm productivity and production.
The programme, Mera Gaon Mera Gourabh (MGMG)/My Village My Pride was initiated by the institute in the month of September, 2015. Since MGMG was a new concept, the scientists have tried to integrate the concept with fisheries programmes. Considering the dimensions of the programme, the scientists were divided into groups. Later they were also encouraged to select to select villages of their choice, depending on their interest in developing projects. Field programmes were assigned to a team of scientists who would be supported by field reporters.
Activities
The major activities conducted during this period (Oct-Dec, 2015) were Attracting Fisher-Youths in Fisheries Education, Training Need Assessment, Demonstration of value added fish products to fisherwomen, and Developing Soil (and Water) Health Card for Aquaculture.
Detailed report can be downloaded here.

Fish Farmers' Day at CIFE HQ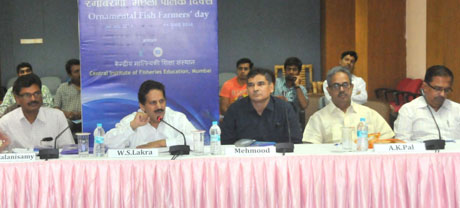 About 50 ornamental fish farmers, breeders, domestic traders, exporters and aquarium accessories traders participated in the Fish farmer's day celebrated at ICAR-CIFE, Mumbai on July 10, 2014. Deliberations included expert interventions by Mr. Mehmood Syed, Ornamental fish breeder and exporter, Dr. K. Palanisamy, Deputy General Manager NABARD, Mumbai and Mr. Anil Kumar, Deputy Director, MPEDA. Dr. W.S. Lakra, Director, CIFE, Mumbai inaugurated the meet. The need for development of an association of ornamental fish farmers was felt to take care of the interests of this sub sector. A concentrated effort was felt necessary to identify rare domestic breeds that command a high price in the domestic market and breed them for gaining economic stability and conservation of biodiversity. Lack of proper guidelines for ornamental fish culture, especially with respect to live feed, quality enhancement, transportation, price stabilization and standardization are some major issues that have to be dealt with on a war footing. The stakeholders were advised to develop a strong association in order to project the demands of the sector effectively.
Fisheries Advisory Services
The University regularly organises aqua-exhibitions, aqua farmer and entrepreneur's meets, fisheries awareness programmes, students' visits, and provides fisheries advisory services to reach a broader spectrum of people in order to create awareness as well as educate about various dimensions of fisheries sector namely the huge employment and entrepreneurial opportunities, health benefits of fish consumption, wonders of aquatic life, the need for community based resource conservation and sustainable use, etc throughout the country.
About 9000 people ranging from professionals to students have benefitted from this awareness programs. Visitors (an average of 1500 per year) mainly consisting of students, trainees, farmers and entrepreneurs were sensitised about opportunities in fisheries sector. In addition, farmers seek technical guidance and consultancy for the development and management of their farm from time to time. Scientists visit regularly different farmers to provide such guidance. Several farmers were provided technical guidance for fish culture in irrigation tanks.
Examination of water quality problem in hatcheries and farms is a regular phenomenon. Demonstration of multiple breeding of carps and operation of backyard hatchery for freshwater prawn were also important activities of this Institute. Similarly, processing techniques and fishing technology were demonstrated as and when required.
---