DBT sponsored 3 months National Training in Molecular Biology & Biotechnology for Fisheries Professionals (May-August 2015)
---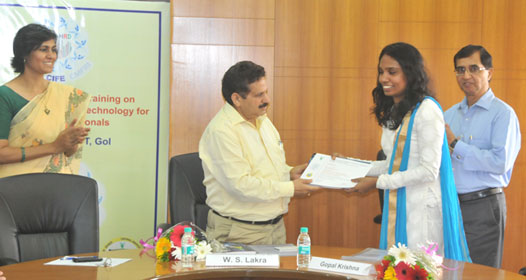 Participating Institutes: ICAR- CIFE (Nodal Centre), ICAR-CIFA & ICAR-CMFRI
National Coordinator: Director, CIFE
PI, CIFE: Dr. Aparna Chaudhari; Co-PI, CIFE: Dr. Gireesh Babu P.


The first batch of DBT Sponsored 3 Months National Training in Molecular Biology & Biotechnology for Fisheries Professionals' was organised during 15th May 2015 to 1st August 2015. This is a unique program meant to promote the application of molecular tools to fisheries and aquaculture research. The program comprises of 45 days of course work followed by a short project for each participant under the supervision of a faculty member. Resource persons included over 30 CIFE faculty members and guest faculty from NIO, NBFGR and CIBA. Three participants Mr. Gajanan Ghode, Assistant Professor in College of Fisheries, Ratnagiri, Ms. Reshma Janardhan, Scientist, CMFRI and Ms. Rakhi Kumari, Scientist, CIFA were awarded certificates on successful completion.
---