FGB Students Win Debate & Quiz Competitions
---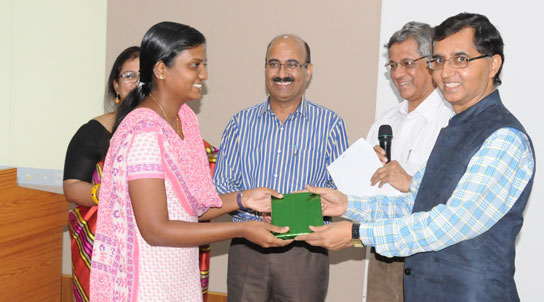 Ms. Atmaprasanthi and Mr. Abdulla Masood, both second year MFSc (FBT) students, bagged first prizes in debate and quiz competitions respectively which were conducted as part of Jai Kisan and Jai Vigyan Week celebrations at ICAR- Central Institute of Fisheries Education, Mumbai during 23-29 December, 2015. Various activities were organized to commemorate the occasion at its headquarters (Mumbai) and four centres located in Kolkata (W.B), Rohtak (Haryana), Kakinada (A.P) and Powarkheda (M.P).

Interactions between farmers, Fisheries Officers, students and scientists were organized. There was active participation from the students. Prizes were distributed to the winners and runners up by Dr. Gopal Krishna, Director and Vice Chancellor, CIFE, Mumbai, who stressed on tapping the potential of aspects of social and moral science for betterment of the society in general and farmers' community in particular.

At Kolkata Centre, on-field interaction with farmers and field demonstration programs on feed-based freshwater prawn & carp polyculture were conducted at farmers' ponds in far off locations such as Bali Island, Sunderbans. At Rohtak Centre, farmers were appraised with latest technological advancements in inland saline aqua-farming during the scientists'-farmers' interaction. At Kakinada, in addition to addressing the farmers' problems, they were exposed to ongoing aqua-farm activities at the Centre. Farmers were also exposed to concepts of community based aquaculture, cage culture in reservoirs and tank based aquaculture. Powarkheda Centre also organized farmers' meet where 20 farmers from Bihar, who were undergoing training at the Centre also participated, during which, scientists demonstrated and delivered lectures on modern farming techniques, management of carp and prawn hatchery.

The overall program was coordinated by Dr. N.K. Chadha, Head, Division of Aquaculture with active support from Dr. B.K. Mahapatra, OIC, Kolkata Centre, Mr. Harikrishna, OIC, Rohtak Centre, Dr. Murlidhar, OIC, Kakinada Centre, Dr. Somdutt, OIC, Powarkheda Centre and Dr. Paramita B. Sawant, Scientist, CIFE, Mumbai.